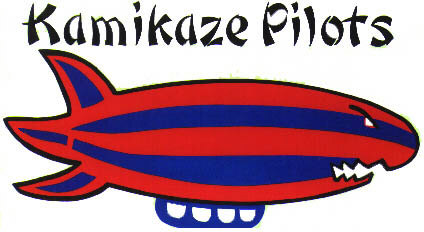 Who & What Were The Old Kamikaze Pilots

MEMBERS:
Andy Sams -Lead/Rhythm Guitar, Lead/Backup Vocals, and Songwriter-
Dave Voyzey -Drummer, Backup Vocalization, Songwriter, & the Funky New Beat-
James Merrick -Lead/Rhythm Guitar, Songwriter-
Jack Zerby -Lead/Backup Vocals (Mostly Lead), Lyrical input-
Ryan Pick -Addin' that bottom bassy tone (BASSIST)-

Click on band member for individual pictures, click anywhere else for band pictures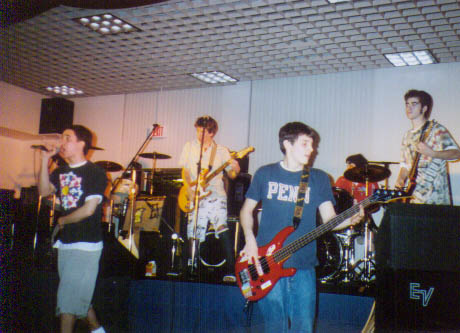 Jack | Andy | Ryan | David | James

HISTORY:
Yes, Kamikaze Pilots have a history. Schoolmates Andy and David formed the band approximately three years ago. David had been playing the drums and Andy had been learning to play the guitar. When David broke his ankle jumping his bike, he and Andy decided it was time to begin focusing on their band. They always believed they would play music together in a band and had already decided on the name: Kamikaze Pilots. David's parents bought him a used electric guitar and amp after his incessant begging to occupy his newly found time. Andy began using it and he and David began to rock out, or so they thought. Listening to the tapes they recorded during this time will tell you a different story, but I digress.
Tragedy struck however when Andy learned he had to leave beautiful Hollidaysburg for Cumberland, MD. Fortunately, there is only a one hour and fifteen minute car ride between the two coordinates. Ever the optimists, they decided to continue on. The next step was to acquire a singer. For this task, they enlisted the help of one Jack Zerby, whom David had met in his Physical Education class. Andy came back to Hollidaysburg often to practice. There was however a flaw in this; which I'm sure seems like the perfect system.
Jack really sucked!
Jack was relieved of his duties in the Kamikaze Pilots along with some other members they had along the way. Andy began to vocalize after much initial hesitation and they acquired Joe Roman as a guitarist and bass player. Things went well for the new Kamikaze Pilots. They played a few gigs here and there with Jack acting as soundman and recorder a few times. Soon though, Joe had to say good-bye to the band. With college, his jobby-job, and his girlfriend, the Kamikaze Pilots fell to number four on his priority list. Andy and David parted from Joe amicably and he remains a friend and fan.
During this time, James Merrick had moved up from Cumberland, MD (approx. same time Andy moved down) and had become acquainted with Ryan Pick and Jack Zerby. Jack had been inspired by David to start drumming and was the drummer of this group. They formed a band; like the Kamikaze Pilots, they had many members that were discarded from the scene, so James, Ryan, and Jack were the ending attack.
David asked if Ryan would care to join the Kamikaze Pilots. Ryan seemed enthused about the prospect of jamming with such fine musicians and asked if David would like to in turn play with his group of strapping young men. This would allow Jack a chance to sing again.
Jack is really good!!!
David was hesitant due to the fact that he hated James. Still he agreed to sit in with their band. After they practiced a few times David felt that the bands should join together. Andy came up, and he and David played some of their songs for the boys. Things moved quickly and the Kamikaze Pilots began to perform.

INDIVIDUAL INFORMATION:
Andy Sams
-Age 18
-Plays Yamaha Pacifica Guitar on a Peavey Special 212.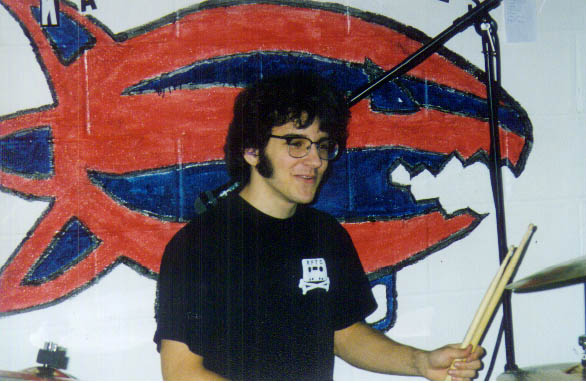 David Voyzey
-Age 17
-Plays Pearl Export Series with Zildjian Cymbals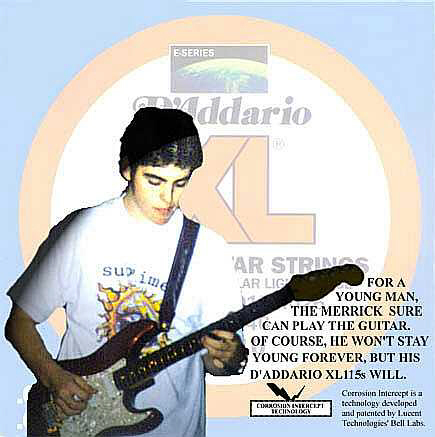 James Merrick
-Age 16
-Plays Fender U.S. Strat Ultra 50th Anniversary Guitar on a Fender Deluxe 112 Plus. Also, The Merrick Guitar (A gold guitar in the shape of a "M", handcrafted by him & his dad)
Ryan Pick
-Age 17
-Plays A Westone Bass on a Peavey TNT 115.
Jack Zerby

-Age 17

-Uses A very nice Microphone on a Fender Passport PA system.

SONGS:

(1st)

Going Out -Lyrics Andy & Dave Mussen from DP, Song by Andy

(2nd)

From the Start -Lyrics Andy, Song by Andy

(3rd)

Won't Refuse -Lyrics Jack, Song by Andy

(4th)

La Fotocopiadora -Lyrics Andy, Song by Andy

(5th)

We Rock -Lyrics Andy, Song by Andy

(6th)

Where? -Lyrics Jack & David, Song by James, -intro/bridge by David

(7th)

I Say -Lyrics David, Song by David & James

(8th)

Kamikaze Pilots (My Nuts) -Lyrics Andy & David, Song by Andy

(9th)

The Pessimist -Lyrics David, Song by David

(10th)

Life from the Bass Drum -Lyrics Andy & David, Song by Andy

(11th)

We're So Funk Rock -Kamikaze Pilots

(12th)

I Spoke Too Soon -Lyrics David, Song by David

(13th)

Anything Goes -Lyrics, Jack and David, -Song by Andy and David
(14th) Frustrated -Lyrics David, Song by Ryan and David

COVER SONGS:

Same in the End

-by Sublime

Dammit -by Blink 182

Bro hymn -Pennywise

PLACES WE PERFORMED AT:
Allegheny High School's Variety Show
Carla Shaw's New Years Party
Memories Night Club
Ryan's Attic
Q-94 Battle of the Bands
Penn State Altoona Campus
John Anderson's Residence
The Zerby Residence (Kayla's Birthday)
Frostburg University
Country Club Mall
Summit Athletic Club
Bernies Crusin' Cafe
Dr. Willy's
Downtown Mall Cumberland
The Big'Uns CD Release Party At The Jewish Memorial Center

Sometime in July of 1998 -OUR LAST PERFORMANCE EVER! We broke up previously, and reunited to play for the Big'Uns. We played at the Big'Uns CD Release party in the Jewish Memorial Center. Among us and the Big'Uns, was Latin Zucchini. Our line up did not consist of the normal Pilots, two of the band members were not with us. Ryan was away on vacation, and Jack refused to play, due to complications with the band's recent break-up. Since we did not have a singer or a bassist, we asked two of our good friends from the Distorted Penguins to aid us in this performance. Magic Dave Mussen and Special Nick Taylor (From the Distorted Penguins) performed with us. Although we had little practice before hand, this show was one of our best. Dave Mussen sang amazingly, and Nick improved upon Ryan's old bass lines. The show was excellant, a good way to end the band. Afterwards we partied with the Big'Uns and slept at Davids. Two black women called James the Wolfeman when we stopped at Sheetz. It was cool! Thanks to: The Big'Uns, Dave & Nick, and everyone who came out!
June 22nd, 1998 -Performed at Downtown Mall in Cumberland MD with No Release, Los Trajes, and Distorted Penguins. We started at 6:00 and played lots of our favorite numbers! To start off the show, we wrote a rap song a day ago that featured Jack on the Drums. James T. (James), Master D. (David), and A. Nice(Andy) all busted out some phat raps intermittent to a Oh Woh Oh chorus type thing. It was Coooool. We were rusty due to band members vacations and not practicing at all. I guess it went well. Thanks to: Dan from No Release, Chris Jolley, and everyone who came or bought a tape.
May 30th 1998 -Performed at Dr. Willy's Seafood Restaurant at Deep Creek Lake MD with the Distorted Penguins. Cool show, went on at 9:00 and played a 11 of our hit numbers with a couple of covers and then watched the Distorted Penguins play. Cool show! Afterwards we had a lot of fun with some cool people! Thanks to: Dr. Willy, Distorted Penguins, Tom the light man, Gina, Rita, Keri, James, Bridget & Adam who we chilled with.
May 29th, 1998 -Played at Bernies Crusin Cafe in the downtown mall in Cumberland MD. Cool show, awesome. Los Trajes (Justin Carter, Nick Yoder, and Andy Sams) had their debut performance and began the evening with a smash hit they like to call "Shookie". Then No Release performed a good 45 minute performance of awesomeness. Then the we came on and finished the show out. We played the following rock numbers: From the Start, I Say, Where?, Won't Refuse, The Pessimist, Same in the End, The Bro Hymn, We Rock, We're So Funk Rock, Life From the Bass Drum, I Spoke to Soon, and Going Out. We sold a large quantity of tapes. Thanks to Dan Stevens for setting up the show, No Release and Los Trajes, Bernies Crusin' Cafe, Derek, C.J., Dave, everyone who came out, and everyone who bought our tape.
May 22nd, 1998 -Hollidaysburg After-glo at the Summit Athletic Club. Very interesting night! James and Dave went down to MD, to pick up Andy; stayed there till about 8:30 then left. Set up equipment at Summit and sound checked. Went on at about 1:00a.m. and played the songs off the album, and a couple cover songs. We got paid, and the Big'Uns played next and then Latin Zucchini. All the bands preformed well. It was a cool night, but unfortunately the after-glo was not that exciting so only about 100 people showed up. Sold some tapes, you know the run-down. Thanks to: Ken Bogel, Big'Uns, Latin Zucchini, Mike Medina, Mike's friend Mike; for helping us unload, and everyone who came out or bought a tape.
May 9th, 1998 -Played Allegheny High School's After-Prom at the Country Club Mall Cumberland, MD. Started at 10:30 and played intermittently with a DJ from a local radio station. Unfortunately, the mall's acoustics were not desired, so the show did not sound as good as it could. There was not a single thing in the mall that could absorb sound waves so they just reflected off of everything. Awesome show at a very cool After-Prom! Songs: Going Out, Where?, Dammit, The Pessimist, Same In the End, Won't Refuse, The Brohyhm, I Say, We're So Funk Rock, Life From the Bass Drum. This performance marked the first show that our tape on Granny Records was available. We sold 24 tapes at $5.00 each. Very cool show. Thanks to: Allegheny High School & staff, the Country Club Mall, Everyone who bought a tape, After-Prom attendants, Mr. & Mrs. Sams and anyone else forgotten.
May 2nd, 1998 -Played at Frostburg State University. Show was supposed to be outside, but then got changed to inside. We played at the end of the hall and no one was there. At one time there might of been 15 people watching us. Thanks to: Justin Carter.
May 1st, 1998 -Played at Kayla Zerby's birthday party at Zerby residence. Songs, Going Out, Dammit, Where?, Same in the End, the Brohyhm, We're So Funk Rock, The Pessimist, and I Say. Cool show, it was radical! Thanks to: Everyone who was there, Kayla, anyone!
April 10th, 1998 -Played at John Anderson's Bonfire/Party. Set up and started playing at about 9:00 o' clock. We played Going Out, Where?, by request: Dammit, and ended with The Pessimist. We practiced hard that day so we could play all of our new material; but Jack being the non-intelligent human being that he is, decided to leave without telling anyone to go pick up two people. After we played the four songs listed, we took a break to wait for more people to arrive. During that time period, Jack left and didn't come back until James had to leave. Cool show, but we should of played more songs. Thanks to: John and Matt.
March 31st, 1998 -Played at Altoona Campus Slep Student Center. Arrived at 6:58p.m. when we should of been there at 6:30. Almost did not play because we didn't get set up and the car with the drums in it, was not in the proper area. Started at 7:10, and opened with "Won't Refuse". We were only allowed to play 6 songs instead of the original ten we had planned. We played "Dammit" -Blink 182 next followed by "The Pessimist", "I Say", "Where?", & ended with Sublime "Same in the End". The PA system we used was awesome! We sounded really good, and many people voted for us to be in the show on April 25th. Many people asked for stickers and many people got up to boogie down. The show was probably our best performance due to the awesome sound system and all the fun we had. We could hear each other really well and we knew it sounded good. We would like to thank the following people for this show: Adam Ritchey; for setting the show up and asking us to play; Bob; for bringing his awesome PA, Ben Perove; for taking pictures of us performing; The BigUns; for being totally awesome, supporting us, playing some really cool music, & putting our sticker on their van; Matt Mathias; being cool, helping us load/unload, supporting us, and coming out; Matt Anderson; for being cool, and helping us load/unload, and supporting us; and all the fans that came out and voted for us...Thanks a lot all of you!
March 27th, 1998 -Played at Allegheny High School "Battle of the Bands" (Q 94 Battle of Bands) in Cumberland, MD. Got out of school, loaded up, took off at 4:30p.m., picked up Andy at 6:00p.m., unloaded at Allegheny at 6:15, set-up and sound checked till approx. 6:56. We went on at 7:00p.m., and opened with "Won't Refuse". We proceeded to play Same in the End, The Pessimist, and Where?, and closed with "I Say". We were going to play "Going Out" last but we ran out of time because it was about 7:30. Loaded up and James, Jack, & Ryan left at 7:46; because they had to take S.A.T.'s at 8:15 on Saturday; while David & Andy stayed to see if we won. We did good for the hardships we had, (Ryan had the Flu, did not practice for 3 weeks, could not hear each other, and Andy had his cast on). At sound check, we played We Rock, The Pessimist, Dammit, and a new project we refer to as "We're so Funk Rock". We took second place and received $125. People thought we should of won, because the other band played all cover songs and had none of their own. They played "Ironman" -Black Sabbath and the DJ's were from a classic rock station so they liked it. The show was so awesome, we just had to put a lot of the details although there are many more. Thanks to: Allegheny for letting us play, Justin for taping the show, and all the people/fans that came out.
February 23rd, 1998 -Played a show in Ryan's attic for a select audience so that our friends could here the new style. (Songs: I Say, Going Out, From the Start, Won't Refuse, Same in the End, Dammit, We Rock, and LaFotocopiadora.) Thanks to: Mrs. Pick; letting us play; and our friends who came out to listen.
January 11th, 1998 -Memories nightclub, the Distorted Penguins asked us to play, and we said "Yeah Man" and played for free, but the cool guy gave us $20 and for that we thank him! (Songs: Goings Out, From the Start, We Rock, Won't Refuse, LaFotocopiadora, Same in the End, and Hertz Donut.) Thanks to: Distorted Penguins for getting us the show, Rob Zembower for the $20, and letting us play, all the people who came out.
December 31st, 1997 -New Years Eve Show for Carla Shaw. Songs = Going Out, From the Start, Hertz Donut, LaFotocopiadora, We Rock, Won't Refuse, and Same in the End. We had an awesome time. We followed the Distorted Penguins there, set-up, the Distorted Penguins bought us some pizza pie, we played, Distorted Penguins played, then we talked, and then the Distorted Pilots (Both the Kamikaze Pilots and Distorted Penguins) played a medley of songs. At 11:59p.m., Distorted Pilots (a combo of Penguins and Pilots) performed "Auld Lang Syne" . We talked some more and then the five 0 arrived. It was crazy, they called James' dad and then they let us drive home. Due to our awesomeness, we did not receive any charges. We misunderstood the directions and got lost on the way home, completing two entire circles back to where we started. Finally we arrived at home. Thanks to: Carla Shaw for having a rockin' party!, Distorted Penguins for asking us to play, all the cool people at the party.
December 13th, 1997 -Allegheny High Schools' "Variety Show" (Songs -Going Out, From the Start) Our first performance ever! For a sideshow event, David and Andy jumped over the 6ft. tall MC to get the people pumped. It went well. Thanks to: Allegheny, Nick for taping the show, the MC for being awesome, Mike Medina for helping us load/unload equipment and coming along, and all the people who came out.